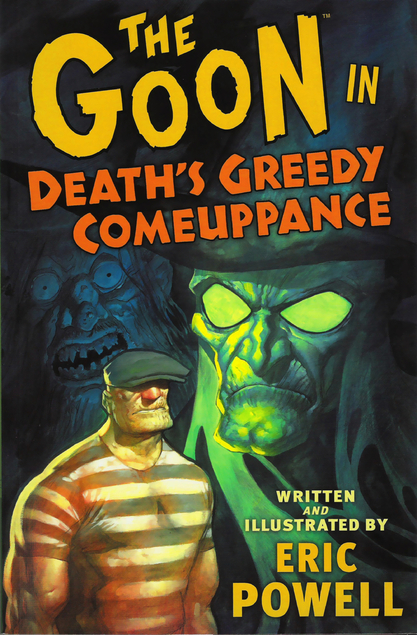 I remember very little about this specific book, mostly because I've read several of Eric Powell's comic, and they do tend to blur together a bit. THE GOON is bewildering, because it's utterly grotesque, but in a way that I find vaguely charming. Perhaps it's the humor, or the wordy playfulness–I mean, "Death's Greedy Comeuppance" is so so lovely/funny.
The titular Goon is a terrifying thug with a heart-of-gold (or perhaps a heart wrapped in gold foil), who's always getting into some scrape or another. There's circus-stuff, strange magic, zombies of some kind or another, and hideous monsters, as well as The Goon's runty, wise-cracking sidekick. Thank goodness for wise-cracking sidekicks, because The Goon's not exactly oozing charm and wit, apart from the lethal variety, that is.
The art in this comic has a gritty harshness to it, with the characters themselves being more on the cartoonish side of things. There's just a strange (and entirely deliberate, I'm guessing) juxtaposition of tone at nearly every level. With all the weird goofiness, there's also some real heart-breaking stuff. I have to give it to Eric Powell. He's created a comic that lets him explore pretty much the full range of human experience. Don't let the surface fool you. Like The Goon, THE GOON has a lot more going on than it seems at first.
Also, though I'm usually a stickler for reading things in order, you can jump in pretty much wherever you like with THE GOON and be ok.